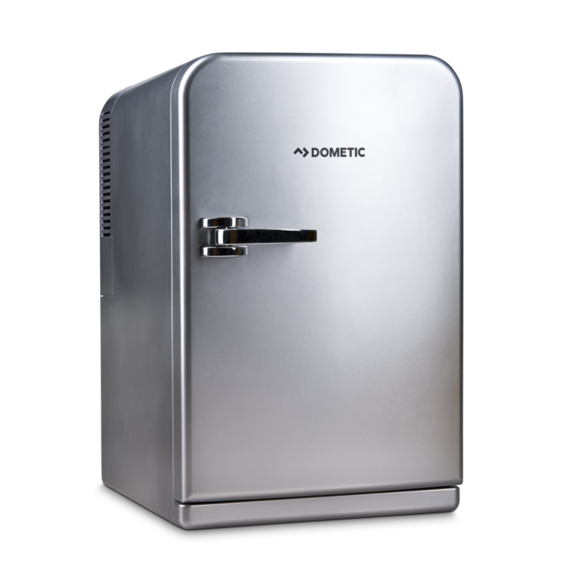 DOMETIC MyFridge MF-15 12/230v Cooler/Warmer 15 Lt
#1269
Only $235.00

ADD TO CART

This product is in stock and ready for order
Details
Top Quality DOMETIC Brand, Termoelectric Cooler

My Fridge MF-15s 12/230v Cooler/Warmer 15 Ltr.

Thermoelectric, use it anywhere, office, bar, kitchen, picnic!

Here's one for the lover of the perfect design. For others it will awaken the nostalgia of yesteryear. To sum it up in one, MyFridge won't leave you in the cold- even if its task is to keep things cool. The small 'personal refrigerator' does the job at least as well as its bigger counterparts. The difference is it can be taken wherever you need it: in the car, at work, at the beach or even at the footy. Ultra-modern thermoelectrics provide cooling up to 20°C below outside ambient temperature, or if need be, it is able to heat food (up to + 65°C).

MF-15 SPECS:
Dimensions W284 x H440 x L361 mm
Weight 5.9 kg
Capacity 15 litres
Power 12Volts DC / 240Volts AC
Temperature Range Heating Capacity: +65°C (set point thermostat); Cooling Capacity: Up to 20°C below ambient
Other Insulation: Solid CFC-free polyurethane foam

Personal AC/DC coolers:
Wherever you go, home, car or office
The exclusive WAECO personal coolers combine cool elegance with powerful technology. Lightweight, compact and portable, they will easily accompany you in the kitchen, the bar, the terrace and the garden - wherever you need them.

Do you want to have cool snacks, fruit or drinks at hand or rather a hot meal? The exclusive MyFridge mini refrigerators with a capacity of 5 and 15 litres are the perfect solution. They will keep your drinks cold or your dishes warm and reliably do the job, indoors and out.
RELATED PRODUCTS