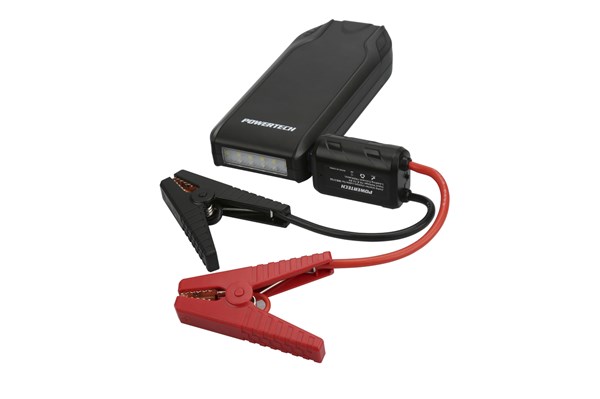 12V 700A Glovebox Lithium Po Jump Start Power bank
#MB3758
Was $295.00
Now $275.00!

ADD TO CART
Details
Never be caught out with a flat battery in the car or boat. This is top quality unit and its a beast can start most diesel motors.

Using a huge 18,000mAh Li-Po battery, rated at a massive 700A peak (350A continuous) jump starting current. It's an absolute beast, but still compact in size. Not only will it start your car, it provides 12/16/19V, 3.5A to run a laptop. It also provides a 3.0A USB Type-C outlet, and a 2.4A USB outlet. That covers a large majority of portable devices, including the car! Will start big motors, up to 7L petrol and 4L diesel. Features an integrated torch and warning strobe, and is recharged using the supplied car or mains adaptor.

Features:

- 350A continuous and 700A peak jump starting

- USB Type C and Type A output

- 12V/16V/19V laptop charging

- 18,000mAH capacity

Specifications:

Capacity: 18,000mAh (66.6Wh)

Charging Input: 15V, 1A

USB Output: 5V, 2.4A (Type A), 5V, 3.0A (Type-C)

Laptop Output: 12 / 16 / 19V, 3.5A

Jump Starter Output: 12V @ 350A (700A peak)

Starting Current: 350A

Peak Current: 700A

Weight: 640g

Dimensions: 85(W) x 216(D) x 36(H)mm

BEWARE OF THE CHEAP AND NASTY JUMP START PACKS>>>> THE BATTERY WILL BE DEAD WITHIN A COUPLE OF MONTHS!!
RELATED PRODUCTS