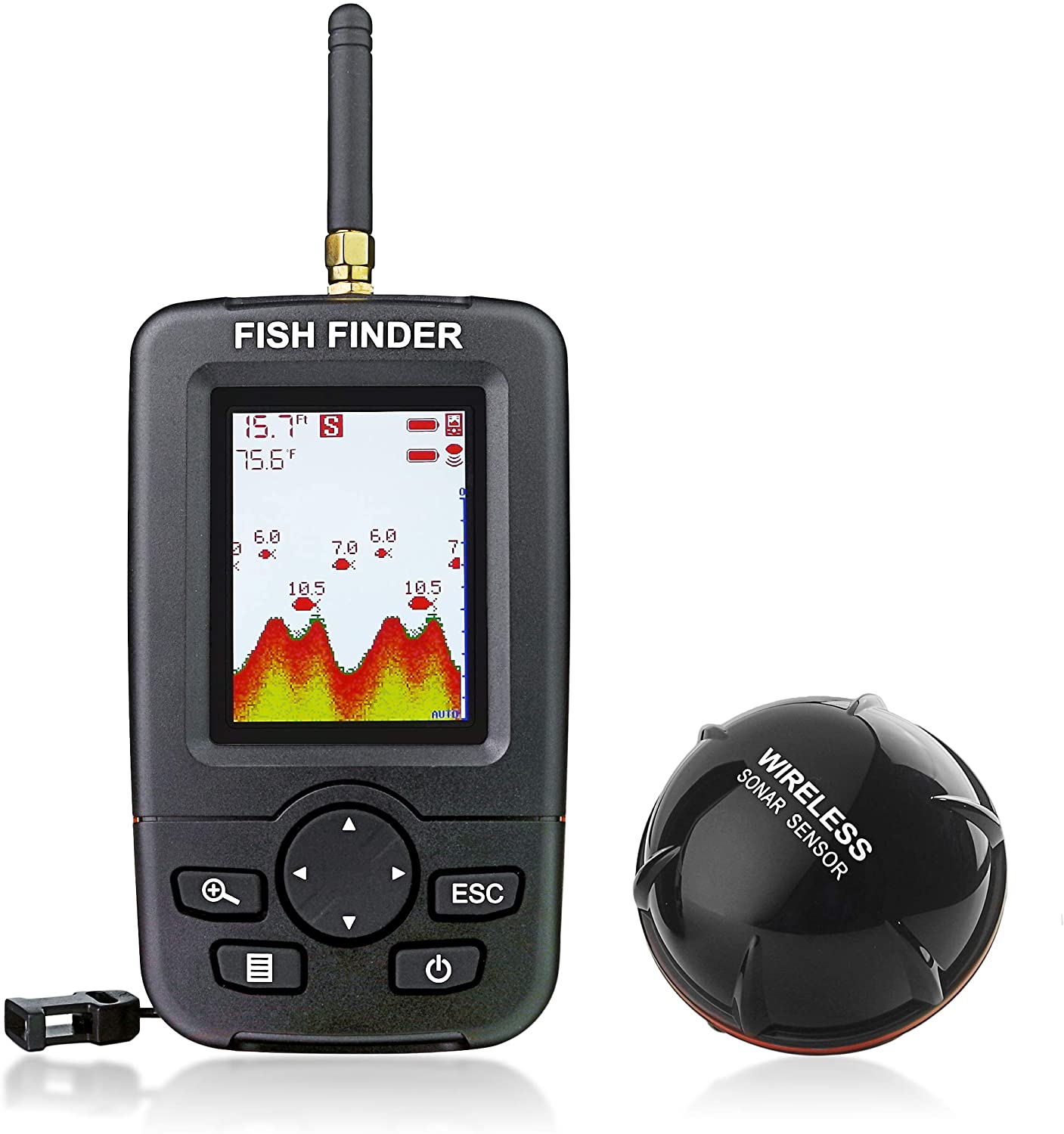 Portable Fish Finder Handheld With Wireless Sonar Sensor
#VTFF002
Only $229.00

ADD TO CART
Details
This little unit is so cool. Its fully Portable so can be taken to any vessel, no matter how tiny. Now you can compete with the pros in your Tinnie or Kayak , maybe even an Optimist!

You'll get the convenience of ultimate portability with this new HAND HELD fishfinder
Compact,Palm Sized Design fits in your Tackle Box, Gear Bag, or even in your Pocket!

Wireless and castable: No more long & heavy cable for transducer. Clear Color Screen: it comes with clear color TFT LCD display, which enables you to read the screen in bright sunlight. The display unit requires 4*AAA alkaline battery (not included), the sonar sensor use built in lithium polymer battery (included).

It detects and displays water depth, water temperature, fish size (small/medium/big), fish depth, and bottom contour. It has Work and Simulation Mode. Measure units of depth and temperature can be converted. Sonar Beam Angle: 90 degree. Depth Range: 2.6-118FT/0.8-36M. Wireless Distance Range: 131FT/40M.

No need to drill hole in your boat hull to install the sensor any more. Two small holes on the wireless sensor allow you to tether with your fishing line and cast it onto water as far as you want. It applies to lake, river, sea and other fishing environment. Suitable for fishing from a kayak or boat, casting from the shore or using for ice fishing.

Note: 1. Press and hold 3 seconds to turn on the display. 2. The sensor will turn on automatically when cast into water. 3. When the sensor is off, its battery Indicator on the display is incorerct. Red indicator light on the sensor will turn off when it is fully charged. If you would like to check the sensor's battery status from the display, please install the antenna and put the sensor in water. It will turn on and its battery Indicator on the display will then display correctly.
***USA UNIT SO MEASUREMENTS ARE IN IMPERIAL***

***THIS UNIT IS NOT IPEX RATED , THEREFORE THERE IS NO WARRANTY IF WATER GETS INSIDE UNIT*******    DO NOT SUBMERGE!




RELATED PRODUCTS