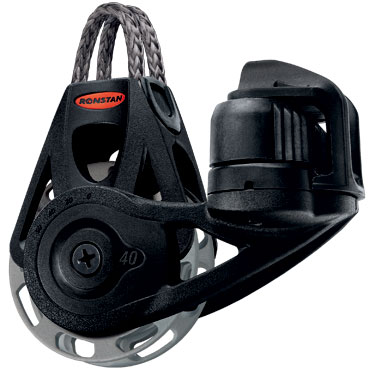 RONSTAN RF46121 SERIES 40, ORBIT BLOCK, Cleat
#1119
Only $122.00

ADD TO CART
Details
One Top Quality RONSTAN Series 40 Orbit Block, RF46121 with Cam Cleat

•Up to 14:1 holding power - highest available!
•Smooth easing of sheets
•Fully Automatic, load sensing ratchet engagement
•Composite C-Cleat and fairlead
•Adjustable cleat arm position
•Easily fitted and securely retained Dyneema® link head

Sheave Ø
40 mm

Max. Rope Ø
9 mm

Max. Cable Ø
- mm

Pin Ø
- mm

M.W.L.
175 kg

B. L.
500 kg

Weight
95 g
Smooth Easing of sheets

With auto models the sheet runds out smoothly and freely as soon as the ratchet mechnaism disengages. When engaged, and with manual models, the sheave cross-hole geometry eliminates the 'shuddering' ease-out that you can expect from traditional v-groove ratchet blocks.




High performance cleating

Both Ronstan BB and RT Orbit Blocks™ feature strong, lightweight fibre-reinforced cleat arms. They have a wide range of adjustment and calibration marks, perfect for selecting your preferred cleating angle settings. The race-proven carbon-fibre reinforced Ronstan C-Cleat give secure rope holding with low entry and exit efforts, and are fitted with fairleads for fast action from any angle.

Applications
•Dinghy mainsheet systems
•Mainsheet fine tune systems on sportsboats & small keel boats
•Mainsheet systems on sportsboats using RF7 mainsheet swivel cleat unit
•Spinnaker and job sheets on dinghies - especially modern asymmetric classes
•Control line applications on larger yachts


Feel free to ask for a quote on any Ronstan product.
RELATED PRODUCTS