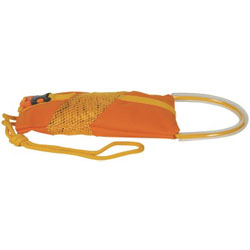 Kayak Throw Bag , "Splitshot",
#605205
Only $80.00

ADD TO CART

This product is in stock and ready for order
Details
Features mesh panel for quick drainage, foam insert for bag floatation, large grab handle and flat, low profile design. <br/> <br/> <br/>Exclusive Quick Stuff system allows quick and easy two-hand reloads while the Whistleloc buckle doubles as a high-decibel emergency whistle. <br/> <br/> <br/>•15m of floating 8mm polypropylene rope <br/> <br/> <br/>Every Kayak should be equiped with one of these handy pieces of safety equipment!
RELATED PRODUCTS