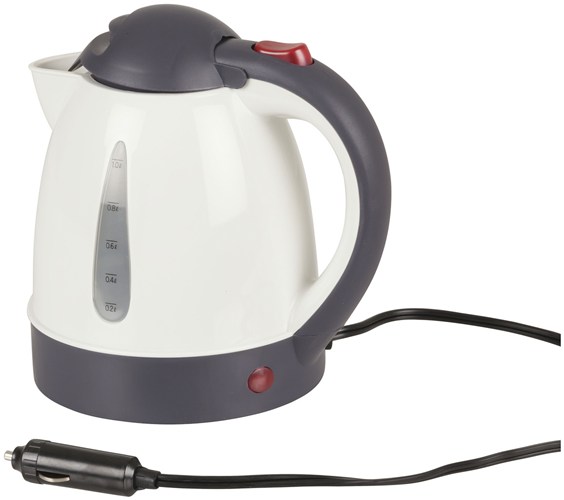 12V Car Kettle. Rovin Brand, White
#GH1386
Only $38.00

ADD TO CART

This product is in stock and ready for order
Details
Never be caught short of a hot cup of coffee on your boat or in your car with this stylish white 12v Car Kettle

Now you can stop, revive, survive anywhere. This kettle makes the ideal travelling companion for those who spend a lot of their time on the road. Simply plug into your car's cigarette lighter socket , mount to your car's interior and boil away. Holds up to 550ml and makes up to 4 cups of tea, coffee, soup or any other hot beverage. Note that this device is not the same as your domestic kettle which consumes much more power so boiling times will be longer.
Max capacity 1 Litre


This attractive kettle features a water level window, an auto-shut off and a boil dry protector. The kettle has a power rating of 150W, which is about the maximum you can pull from a cigarette lighter or 12V power socket. Make sure your cig lighter circuit has a 15A fuse fitted.

• Approx boiling times
300ml - 15min
500ml - 28min

Length : 165.0mm
Height : 185.0mm
Depth : 150.0mm

This is not a WAECO Brand Kettle.



RELATED PRODUCTS