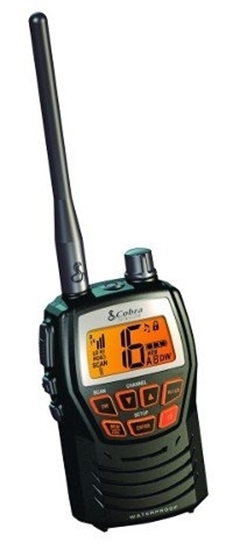 Cobra MR HH150 Floating Handheld VHF Radio 3W
#HH150
Was $185.00
Now $174.00!

ADD TO CART

This product is in stock and ready for order
Details
This is the most affordable little VHF radio on the market, ideal as a spare

The Cobra MR HH150 Floating Handheld VHF Radio is 
built for the water enthusiast. This handheld floating radio is 
designed to enhance your "on the water" experience for all types of 
watersports. It has a user-friendly interface, large display and 
floating capabilities with indicators, such as TX/RX signal 
strength, battery status, scan, DW, Weather channel to keep you 
safe. 
The MR HH150 uses rechargeable AAA batteries (included) with the 
option of carrying additional standard AAA batteries to avoid ever 
being powerless, especially in emergencies. What's more, its 
maximum range and low power consumption for extended operating time 
give marine enthusiasts unmatched reliability and peace of mind. 
Also ideal for recreational boaters or as a backup on larger vessels, this full featured 3 watt Cobra Marine radio brings class-leading performance you'll appreciate.
- Floating design and orange core make retrieving radio easy if
dropped overboard
- Rated submersible to industry standard JIS7 (IPX7)
Specifications. One metre for 30 minutes
- 3 Watt VHF: Low/Med/High Output power for short and long range communication
- USA, Canada and International Channels: allows operation on any
of the three different channel maps established for these areas.
Includes the latest 4 digit channels
- 10 NOAA Weather Channels and Weather Alert: instant access to
national All Hazards and weather information, 24 hours a day, and alerts if threatening weather is nearby
One year Warranty 

Price may vary from my website. Mr Marine Ltd
RELATED PRODUCTS