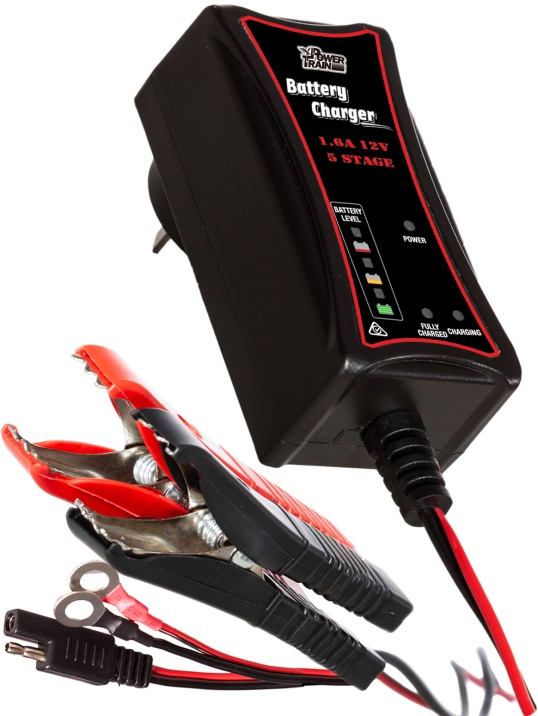 12V 1.6A Automatic 5 Stage Smart Battery Charger
#PTC12V16A
Was $36.00
Now $30.00!

ADD TO CART

This product is in stock and ready for order
Details
Value Battery Charger, Idea for smaller Batteries

The PTC12V1.6A fully automatic 5 stage smart battery charger is designed to effectively charge most 12V
automotive battery types including lead acid, calcium, maintenance free, Gel and AGM. They are
manufactured to the latest design parameters and highest quality levels. There are no buttons to decipher -
the specially designed microprocessor charging system automatically selects the correct current setting and
output voltage for the size and type of the battery, greatly assisting prolonged battery life.

PTC12V1.6A Fully Automatic 5 stage smart battery charger
PTC12V1.6A
The PTC12V1.6A fully automatic 5 stage smart battery charger is designed to effectively charge most 12V
automotive battery types including lead acid, calcium, maintenance free, Gel and AGM. They are
manufactured to the latest design parameters and highest quality levels. There are no buttons to decipher -
the specially designed microprocessor charging system automatically selects the correct current setting and
output voltage for the size and type of the battery, greatly assisting prolonged battery life.
Features
 Fully automatic 12V 1.6A 5 stage charging system.
 Button-less automatic battery chemistry selection, suitable for GEL, LEAD ACID, AGM, and Maintenance
Free Calcium types of automotive batteries. This charger is NOT suitable for Lithium type batteries. Do
not attempt to recharge dry cell batteries.
 LED Battery Level test function. Prior to switching on mains power, the connected battery charger will
illuminate the connected battery charge level for quick identification if charging is required.
 Zero volt start up, enabling recovery and charging of a completely deep discharged battery
 Internal short circuit, reverse connection, over temperature, overload and over voltage protection
 Supplied with alligator clamps and ring terminals for fixed connection.
Specifications:
Working voltage 240VAC 50/60 Hz
Charging output voltage 12V
Maximum charging current 1.6Amp
Minimum start voltage Zero Volt
Charging type 5 stage charging system


RELATED PRODUCTS