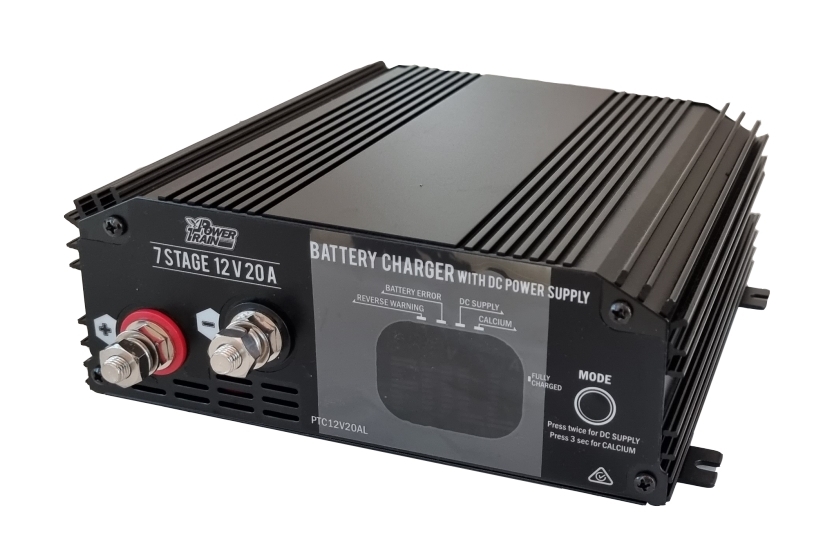 Battery Charger MASSIVE 20AMP, Multi Stage System
#PTC12V20AL
Was $199.00
Now $165.00!

ADD TO CART

This product is in stock and ready for order
Details
Top Quality, Multi Stage, Massively Grunty 20Amp 12v Battery charger 

The Power Train PTC12V20AL Battery Charger is designed to effectively charge all automotive and industrial type Lead Acid, AGM, Gel and Calcium
batteries. Manufactured to the latest design parameters and highest quality levels, they incorporate a unique micro-processor controlled Seven Stage
Pulse Charging system, which intelligently assesses battery condition and size, to make battery charging much safer, much more effective - and thus
prolong battery life. They are ideal for Automotive, Motorhome and Marine applications, to ensure the correct, safest and BEST method of charging a high
capacity 12V battery bank or individual batteries.
Fully Automatic 7 Stage Charging System
Large easy to read LED display shows the charging stage status, volts and amps output. DC output mode displays faulty battery or Polarity issue
Zero volt charging capability allows recharge of a totally flay (but not faulty) deep cycle battery.
Inbuilt protection systems for safe operation.
Input Voltage 175 to 225V AC/ 50 Hertz
Output voltage 12v / 375 W
Max output current 20A
Protection function :Short circuit, reverse polarity, over voltage, over current, over temp, even charging and over charging protections.
Suits flooded lead acid , AGM, Gel and maintenance free calcium batteries, (NOT LITHIUM)
Recommended Battery capacity up to  1100CCA or 300Amp hour
Working temperature 15 degrees to 50degrees Celcius
Price may vary from T.M to my Website

RELATED PRODUCTS