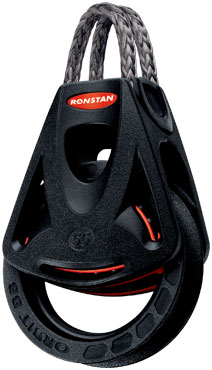 RONSTAN SERIES 55, ORBIT BLOCK, RF55101 TOP QUALITY
#RF55101
Only $56.00

ADD TO CART
Details
One Top Quality RONSTAN Series 55 Orbit Block RF55101

•Ultra Lightweight
•Low friction 2-stage Orbital ball bearing system
•Highest working load in its class
•Low profile and compact
•High performance cleating
•Easily fitted and securely retained Dyneema Link head

Sheave Ø 55 mm
Max. Rope 10 mm
M.W.L. 500 kg
B. L.1000 kg

Weight68 g
Highest working load in its class
The orbital ball-bearing arrangement gives the largest possible bearing race diameter. This maximises load performance. The proven Ronstan 2-stage bearing system features high compression grade acetal ball bearings and a secondary full-contact bearing. This gives minimum friction across the full working load range.

The floating sheave and bearing system is supported by a fibre-reinforced load frame. The design was computer modelled to be stress optimised. The Dyneema® Link is produced from FSE Robline SK75 fibre, which is 10 times stronger and lighter than steel, and provides the final connection from the block to the load point.

Simple and secure attachment
The Dyneema® Link is easily fitted and is retained securely by a moulded retainer clip. The flexible link can be left with one end attached to the block when fitting - no more lost shackle pins.

The system is compatible with Dyneema®/Spectra® strops, webbing and carbon connection points - much more so than steel loop tops or shackles.

Feel free to ask for a quote on any Ronstan product.
RELATED PRODUCTS