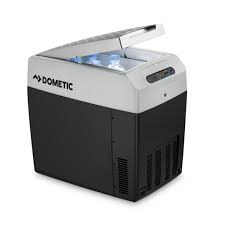 DOMETIC Coolpro TCX21 Thermoelectric Cooler
#TCX21
Was $379.00
Now $366.00!

ADD TO CART

This product is in stock and ready for order
Details
Top Quality DOMETIC Brand, Thermoelectric Cooler TCX21
A fresh design, soft-touch controls and digital display – these are the hallmarks of the Dometic CoolPro TCX series. What's more, the popular high-tech coolers deliver a reliably high performance with features including: intelligent power save circuit, adjustable temperature, cooling performance up to 27 °C below the ambient temperature and, if desired, a heating function achieves temperatures of up to +65 °C. The new TCX coolers prevent deep discharging when connected to a battery and feature reverse polarity protection for DC and AC connections.
21 litres
Cools up to 27°C below ambient temperature and heats up to 65°C
Intelligent power-save circuit
Soft-touch control panel
Two stage battery protection
7 level temperature regulation
Built in carry handle
12, 24 or 240V
303(w) x 420 (h) x 450(d)mm
12 month warranty
***SAVE ON RETAIL PRICE***
RELATED PRODUCTS