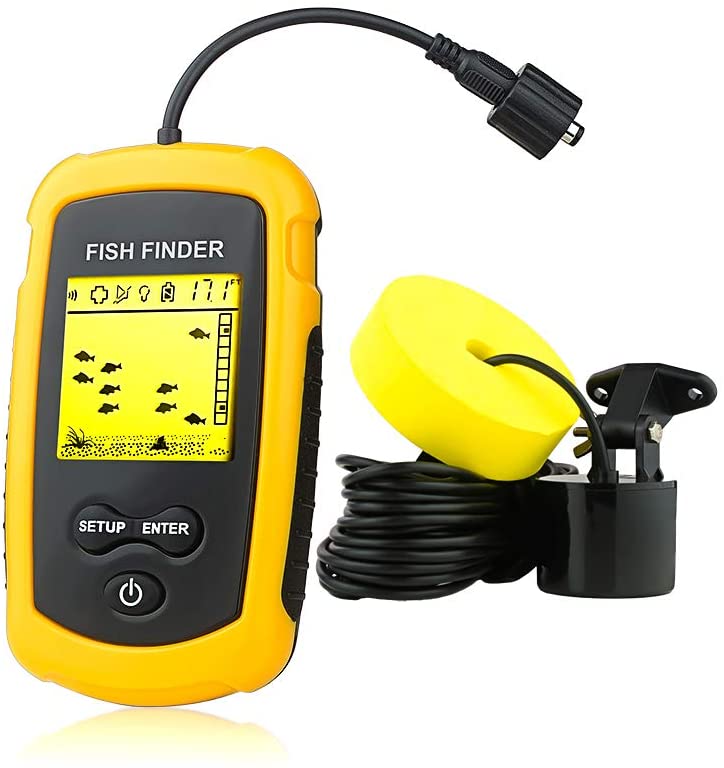 Portable Fish Finder Handheld with Sonar Transducer
#VTFF01
Only $125.00

ADD TO CART

This product is in stock and ready for order
Details
This little unit is so cool. Its fully Portable so can be taken to any vessel, no matter how tiny. Now you can compete with the pros in your Tinnie or Kayak , maybe even an Optimist!

You'll get the convenience of ultimate portability with this new HAND HELD fishfinder
Compact,Palm Sized Design fits in your Tackle Box, Gear Bag, or even in your Pocket!

Shows you what is in the water: Detects and displays water depth, approximate fish location (suits for all sorts of fish), short & tall weeds, sand & rocks on seabed. Suitable for fishing from a kayak, off the dock, and ice fishing. You can use the fish finder on moving kayak with slowly speed below 5mph (make sure the bottom of the transducer is horizontal).

Easy to Use: Toss the transducer into water and turn on the display unit, it will show you the water depth and approximate fish depth if fish schools passing by. It has 5 user selectable sensitivity; battery save mode; backlight mode ; fish alarm; unit of measure. Setting can be saved when turned off.

Very portable that you can take it anywhere: It comes with neck strap that allow you to wear it around neck when you are busy on the kayak. And you can easily store the fish finder in your tackle box. The fishfinder is powered by 4 AAA batteries. It lasts 4-5 hours with new batteries in continuous use. It can be used in fresh water as well as salt/sea water.

Accurate Depth Reading: The fish finder use sonar to detect water depth and fish location. Sonar Frequency is 200 kHZ. Detectable area is 45 degrees beam angle under the sonar transducer. Detectable depth range is from 3ft/1m to 328ft/100m below the sonar transducer.
***USA UNIT SO MEASUREMENTS ARE IN IMPERIAL***
***THIS UNIT IS NOT IPEX RATED , THEREFORE THERE IS NO WARRANTY IF WATER GETS INSIDE UNIT*******    DO NOT SUBMERGE!




RELATED PRODUCTS