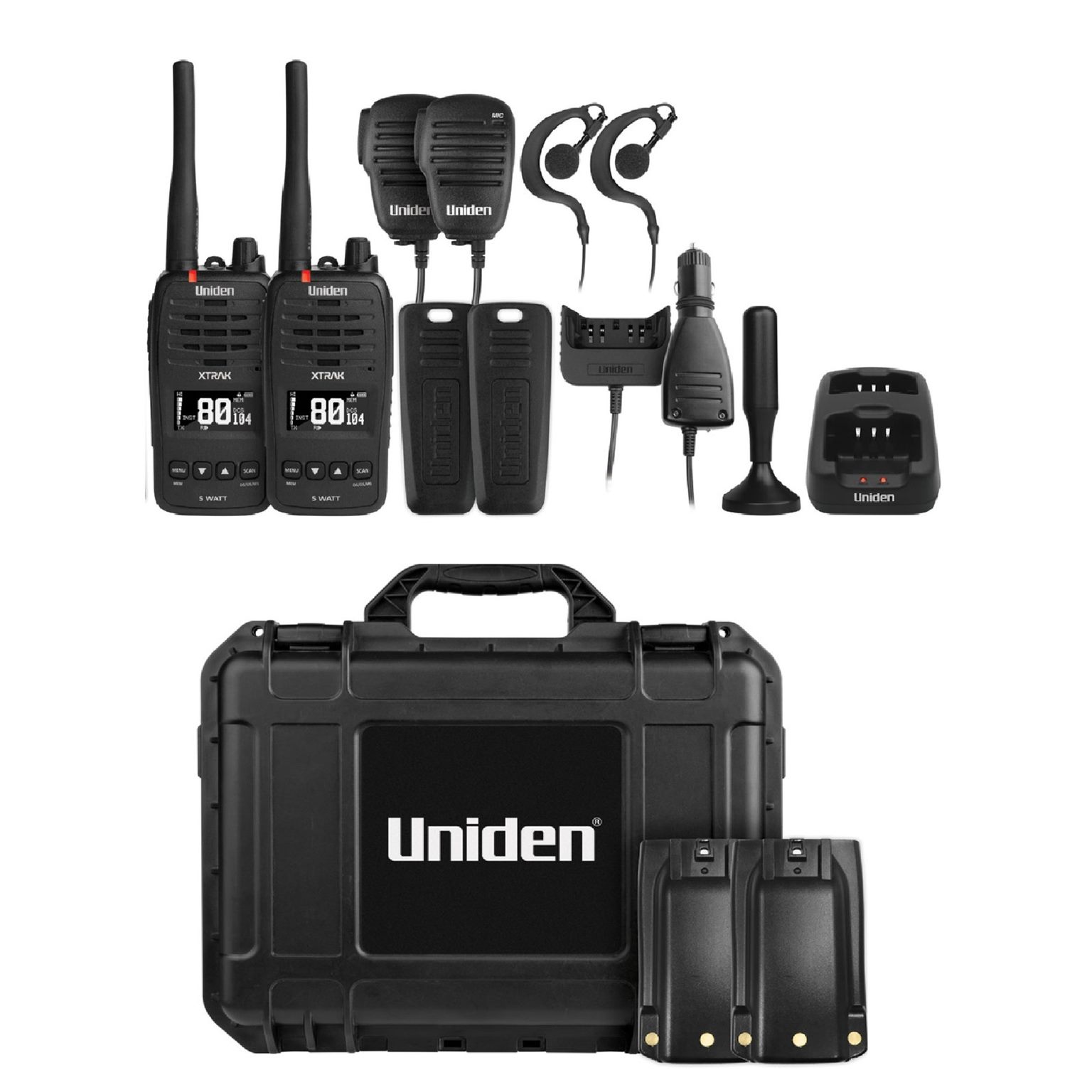 Uniden XTRAK 50 5 Watt Waterproof Smart UHF Twin Pack
#XTRAK50-2TP
Only $735.00

ADD TO CART

This product is in stock and ready for order
Details
The New XTRAK 50 Tradies Pack is a Smart UHF Waterproof Radio Twin Pack, demonstrating the latest in UHF Communications from the world leaders in wireless communication.
The XTRAK 50 has a large, high contrast anti-glare OLED display that is clear and easy to read in all lighting conditions. It also contains a Powerful integrated 2-Watt speakers and 4 level voice enhancer enable maximum sound clarity in noisy environments. The XTRAK 50 handheld radio is the ultimate in compact UHF communications with 5 Watt power and delivers up to 17km# of range. The battery also achieves an exceptional performance with a standby time of 30 hours. This makes it the perfect unit for professionals who need a rugged and heavy duty radio suitable for various conditions.
Uniden's innovative one touch instant replay allows you to record and replay up to 4 minutes of recently received communications. The Instant Replay Function on a UHF Handheld is a first in the market… meaning you won't miss any important transmissions. And a Smart Key allows you to toggle between instant channel, monitor, call tone or equaliser.
Included:
2 x Xtrak 50 UHF Radios
2 x Detachable Antenna
2 x 2700mAh Lithium-ion Rechargeable Battery
1 x Twin Drop In Charging Cradle
1 x AC Adaptor
2 x Belt Clips
2 x Speaker Mic
2 x Earpiece Mic
1 x Weather proof case
IDEAL FOR FARMING,OFF ROAD CLUBS, SECURITY,ANYONE THAT REQUIRES TWO RADIO COMMUNICATIONS
RELATED PRODUCTS