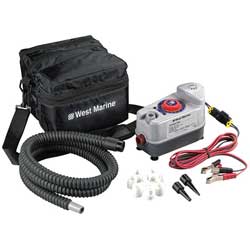 High-Pressure 12v Air PUMP *ABSOLUTE QUALITY*
#681
Only $295.00

ADD TO CART
Details
This is an Awesome, Top Quality Air Pump. Ideal for obtaining High Pressure , effortlessly into you Dinghy, Sea Biscuit or what ever item you require a high pressure outcome.

NO MORE STRUGGLING WITH MANUAL PUMPS!!!

This unit is ideal for using at the boat ramp to blow up your Inflatable Dinghies or Large Sea Biscuits.Or onboard the boat, to reinflate a stored dinghy.

The fully automatic operation and sixteen cubic feet per minute power of these new pumps makes inflating or deflating inflatables and towables a breeze. Simply set the dial for the pressure required, the pumps automatically stop when your pre-selected pressure is reached. Perfect for HP floor inflatable boats and all others as these pumps will automatically inflate both tubes and HP floors to full pressure in a jiffy. Model 13989538 includes a built-in precision pressure gauge. Both models feature a 5'7" flexible inflator/deflator tube and 9'10" power cord with alligator clips to attach to 12V battery power source. Complete with a handy shoulder bag and multi-diameter adapter set to fit a wide range of inflatables and towables including tubes, air mattresses and floats. Draw of 20A @12V. Maximum air pressure of 14.5psi.
RELATED PRODUCTS