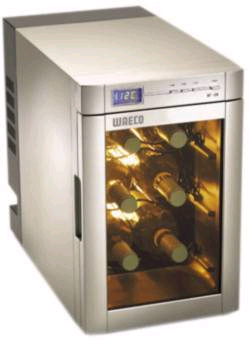 WAECO 12v/230v WINE COOLER **SALE****
#736
Was $280.00
Now $230.00!

ADD TO CART

Limited stock remaining. Order now before it runs out!
Details
NOTE :******The MF-6W Wine Fridge is a thermoelectric cooler, Note on this model that max cooling is 18°C under ambient, if the room temp is above 23°C then max cooling can't be achieved. In low ambient temps 5°C is achievable, with current hot conditions during the day, 8°C is expected.*****

Now you can sample your favourite "drop" anywhere with this awesome wine cooler by Waeco. Chilled wine on the boat, at the camp ground, in the caravan or even poolside!


How do you like your wine? Full-bodied red wines, such as a fine Shiraz, should be served at a temperature of 18°C. A Chardonnay tastes best at about 10°C. Whichever you prefer, the elegant Wine Chamber MF-6W brings your wine to the perfect temperature. Always ready to serve, the stylish MyFridge MF-6W, with room for six standard-size bottles of wine, will keep you prepared for the planned dinner party or for the arrival of an unexpected guest. The desired temperature (between 5°C and 20°C) is simply preset and then reliably maintained. This thermoelectric appliance connects to 240v mains and 12v DC and is accented by an interior light.

MF-6W 6 Bottle Cooler
Dimensions W260 x H415 x L470
Weight 6,5 kg
Capacity 6 bottles
Voltage 12V DC and 240 V AC
Temperature Range Digital selection from 5° C to 20° C
Cooling capacity: up to 20°C below ambient
Warranty 1 year warranty on everything
Other - The desired temperature (between 5° C and 20° C) is simply preset and then reliably maintained.
- CFC-free materials
RELATED PRODUCTS