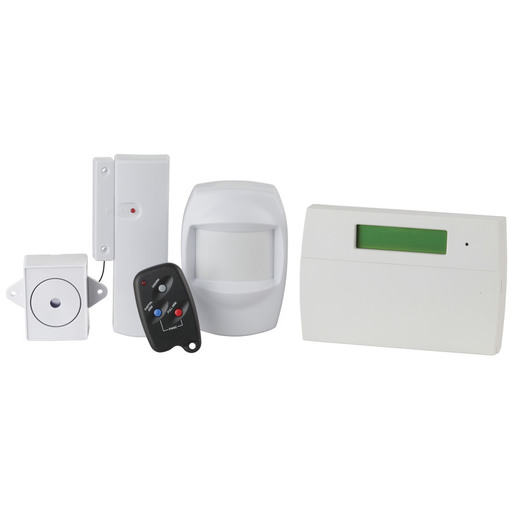 Burglar ALARM, WIRELESS, With GSM Dial
#LA5156
Was $299.00
Now $274.00!

ADD TO CART

Limited stock remaining. Order now before it runs out!
Details
Deter would be theives, criminals and other scumbags, with nothing better to do with their time, than to ransack and steal items from your beloved vessel, or caravan with this neat little unit.

This unit is brilliant as it has the auto dial function where by it calls any number you want via the GSM network SIM CARD NOT INCLUDED.

**NOTE** The main panel has 9v battery back up , but you will need to buy a 9v adaptor if you want to power it full time from your 12v boat or caravan system.

The system is easy to set up and to operate, utilising wireless PIR detectors and reed switches, so there's virtually no wiring at all. Fully featured with up to nine zones, remote arm and disarm function and battery backup. This system allows you to cater for all your security needs in one system while giving you peace of mind. Supplied with the alarm control unit, loud 120dB siren, a wireless PIR detector and wireless reed switch and a wireless remote control.

**Will require an active GSM SIM card to operate dialer function.**

Features:
• Alarm trip notification via GSM network - no phone lines required
• Notifies up to three programmed numbers by phone and SMS
• Wireless PIR and reed switch units - no wiring required
• Alarm response time less than 10 seconds
• Up to 9 separate zones
• Battery backup in case of power failure
• Mains power supply included
• Wireless range of 50m
• Standby battery: 9VDC (provides up to 15 hours standby backup)

• Alarm panel measures: 119(H) x 176(W) x 29(D)mm
• Wireless reed switch measures: 71(H) x 50(W) x 16(D)mm (combined excluding aerial)
• Wireless PIR measures: 104(H) x 60(W) x 39(D)mm (excluding aerial)
• Wireless key fob measures: 58(H) x 30(W) x 12(D)mm (excluding aerial)


Please Note: For correct operation of the motion sensor, all moveable objects need to be secured in the cabin, so that if the boat rocks the alarm doesnt trigger. The reed swithces for the cabin door or washboards, may be the most suited sensors, as they activate alarm when the door or washboards are opened.
RELATED PRODUCTS