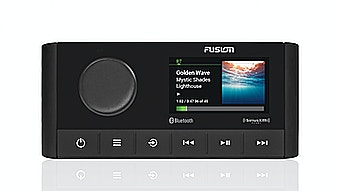 FUSION MS RA210 APOLLO SERIES MARINE STEREO
#MSRA210
Only $669.00

ADD TO CART

This product is in stock and ready for order
Details
Add music to your on-water adventures all year long with this versatile stereo from one of the Worlds leading brands, FUSION.

Introducing the new MS-RA210, a compact marine stereo designed to deliver a quality audio entertainment experience out on the water. The MS-RA210 features Fusion's new-look design aesthetics and revolutionary Digital Signal Processing technology for optimized listening in any environment. The sleek design with the option of either mounting the stereo with a conventional flush finish or integrating it flat ensures a visually appealing finish to your dash, making the MS-RA210 a stylish addition to your vessel.
New-Look Design Aesthetics: The MS-RA210 features a brilliant 2.7" optically bonded, full-color LCD which is incorporated into a black front face for ease of visibility and enhanced styling. The black front face blends seamlessly with your dash, complementing other electronics and MFDs for a tidy, uniform and elegant installation to provide uniformity across the helm.
Digital Signal Processing (DSP): A technically superior listening experience made simple, Fusion's DSP produces superior sound quality in every environment, at every volume level. The power is in the real time optimization and processing of the audio signal matched with the revolutionary technology built into our products. The built-in DSP chip monitors the music playing and adjusts loudness curves for quality audio at every volume level, while the feed-forward limiter anticipates a peak in the audio and adjusts the gain to make distortion, a thing of the past. Using environmental information and acoustically designed Fusion speaker, subwoofer and amplifier profiles, you can enjoy customized, optimized audio in any area on your boat.
Multiple Source Options Available: The MS-RA210 features more source options, with Bluetooth, AM/FM radio, iPhone/iPod, MTP, SiriusXM and DAB+ radio available, USB and AUX connections ready at your fingertips.
This auction is for the HEAD UNIT only.

PRICE MAY VARY FROM T.M TO MY WEBSITE
RELATED PRODUCTS