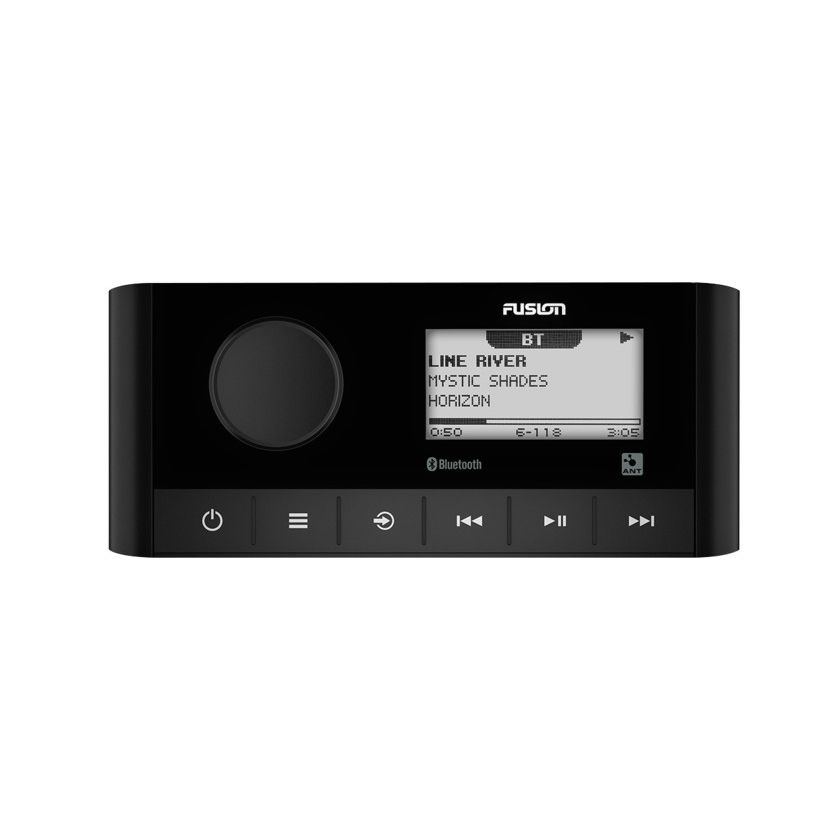 Fusion MS RA60 Marine Stereo Bluetooth Audio
#MSRA60
Only $339.00

ADD TO CART

This product is in stock and ready for order
Details
Add music to your on-water adventures all year long with this versatile stereo from one of the Worlds leading brands, FUSION.
Fusion MS-RA60 Marine Stereo Marine Stereo with Bluetooth Audio Streaming

Modern, compact and the most economical marine stereo from Fusion yet.
Sources: AM / FM / Bluetooth / AUX / DAB+
The MS-RA60 is our most economical marine stereo yet, featuring modern aesthetics, Multi-Zone(TM) technology in two zones and advanced connectivity options in a compact form factor. Designed for quality audio entertainment in the harsh marine environment, a perimeter bonded, anti-fogging LCD is integrated into the IPX6 and IPX7 water resistant black front face - making the MS-RA60 an attractive addition to your helm.
Features:
Multi-Zone Technology: Up to two independent audio zones are available for a customized listening experience across your boat, each with advanced localized audio options, including volume limits, zone naming, tone control, balance and more.
IPX6 and IPX7 Ingress Protection: The front panel of the MS-RA60 meets international IPX6 and IPX7 Water Ingress Protection standards, providing assurance that your product will perform and last in the harsh marine/outdoor environment when installed correctly (please refer to the installation instructions for specific details).
Retrofittable: The MS-RA60 is designed to fit in the MS-RA55 mounting profile, eliminating the need to alter your existing cutout, reducing complexity when upgrading your stereo system.
Class-D Amplifier Design: The built-in Class-D amplifier provides increased power while drawing less current than a standard Class-AB amplifier. The amplifier design delivers increased efficiency and power output, letting you enjoy your music at higher volumes for longer.
Wireless Software Updates: Over-the-air software updates are now available from your compatible device via BLUETOOTH(R) with the free Fusion-Link(TM) app, making it simple to keep the MS-RA60 up to date.
Price may Vary from T.M to my website
This auction is for the HEAD UNIT only.
RELATED PRODUCTS