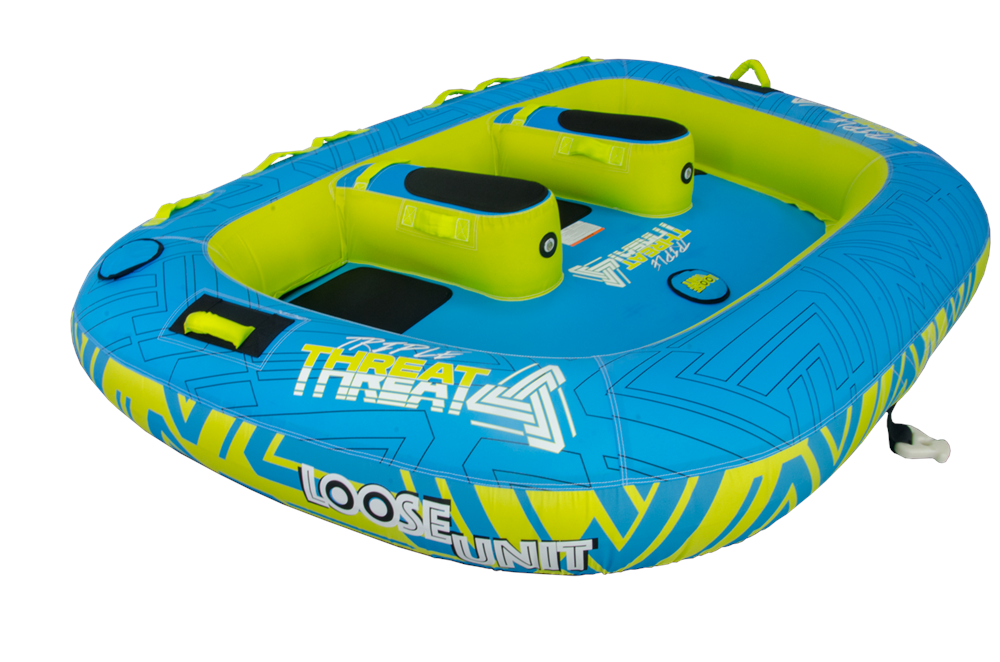 LOOSE UNIT TRIPLE THREAT, Three Person Action!
#WSTU1030
Only $482.00

ADD TO CART

Limited stock remaining. Order now before it runs out!
Details
Thrill Seek Side By Side With the Loose Unit Triple Threat

Built for 3 riders, this classic towable will impress you with a variety of different riding options.

The Triple Threat tube is guaranteed to give you loads of fun on the water. Dual towing points make it so you can tow it in a couch position or simply reverse it, load it up with the kids & tow it Chariot style. The low centre of gravity and cockpit shape give young riders comfort and piece of mind. The Triple Threat provides great value & comes complete with neoprene handles & knuckle guards for comfort, quick connect & boston valve for rapid inflation & deflation. Tow up to 3 riders with all the quality features that the Loose Unit name lives up to and enjoy family fun on the water!
Product Code: WSTU1030
- 3 ways to ride this tube, cockpit, chariot, or 2 riders on the saddle seats

- Quick connect for easy towing
- 2 directional towing
- 840D Nylon cover
- Boston valve for easy inflation and deflation
- 14 Padded handles
Experience an exciting day of towable action on the Loose Unit Triple Threat, or put your feet up and relax, using it as a deluxe lounge float.

**PRICE MAY VARY FROM TRADE ME TO MY WEBSITE***
RELATED PRODUCTS