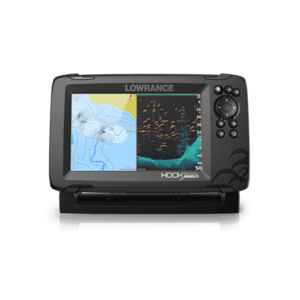 LOWRANCE HOOK Reveal 7 Splitshot FishFinder Chart Plotter
#HOOKREVEAL7
Was $889.00
Now $874.00!

ADD TO CART

This product is in stock and ready for order
Details
Help your favourite angler catch more fish, with this Affordable Hook Reveal 7 From Lowrance, this model has added advantage of GPS Chart Plotter to Pinpoint your Special Fishing Spot.
 Lowrance HOOK Reveal 7" SplitShot with CHIRP, DownScan & AUS/NZ charts 
Includes Splitshot (CHIRP & Downscan imaging) skimmer transducer and built in Pre-loaded C-Map NZ/Aus charting. 
The all-new Lowrance HOOK Reveal makes fishing easier, delivering powerful performance with proven fish-finding tools including, Autotuning Sonar, DownScan Imaging(TM) and now FishReveal(TM), which makes fish easier to see by combining the benefits of Lowrance CHIRP sonar and DownScan Imaging(TM) on one screen.
Whether you're fishing a local spot or unfamiliar water, find the best fishing areas with preloaded Australian and New Zealand Coastal chart from C-MAP or map uncharted water - in real time - with Genesis Live.
Key Features
- FishReveal(TM) 
- Preloaded AUS/NZ chart
- Genesis Live Real-Time Mapping
- Autotuning sonar
- SplitShot transducer with High CHIRP and DownScan Imaging(TM)
- SolarMAX(TM) Display
- New fish-finding color palettes
- Splitscreen functionality
- Optimized keypad with one-touch access to key features
- Mapping options include C-MAP, C-MAP Genesis, Navionics(R) and more*
- microSD card slot
- Easy front-dash or gimbal-bracket mount
Whats in the box:
- HOOK Reveal 7" Navigation Unit
- HOOK2 4 & 5 / Cruise 5 Bracket
- HOOK2/Cruise Power Cable (5/7/9/12)
- FUSE-1 Set of 3 x 3-amp Fuses
- HOOK2 7/9/12 Corner Clips
- HOOK2 / Reveal SplitShot Skimmer Transducer

Price May Vary From T.M to my Website
***SAVE***

RELATED PRODUCTS