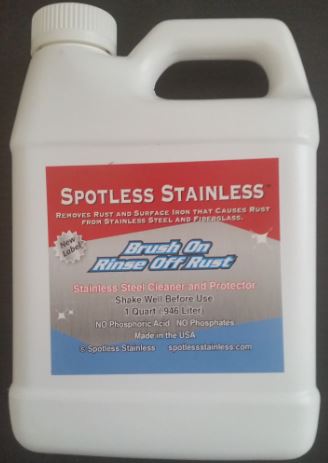 Spotless Stainless Steel Cleaner, 946Ml Great Product!
#STAINLESSCLEANER
Was $110.00
Now $96.00!

ADD TO CART

This product is in stock and ready for order
Details
At Last a Cleaning Product that will leave your Stainless Steel Items Sparkling.

Spotless Stainless is the Simplest and Most Effective Way to Remove rust and the "Surface Iron" that causes Rust From Stainless Steel.

Spotless Stainless is NOT a Polish so requires far less effort than Traditional Polishes.

You Simply Brush it on, So it Reaches Hard to Access places easily.

Spotless Stainless Will Not Harm, Rubber, Plastic, Fibreglass or Wood, so that gives peace of Mind.
Size 1 quart / .946 Litre
RELATED PRODUCTS