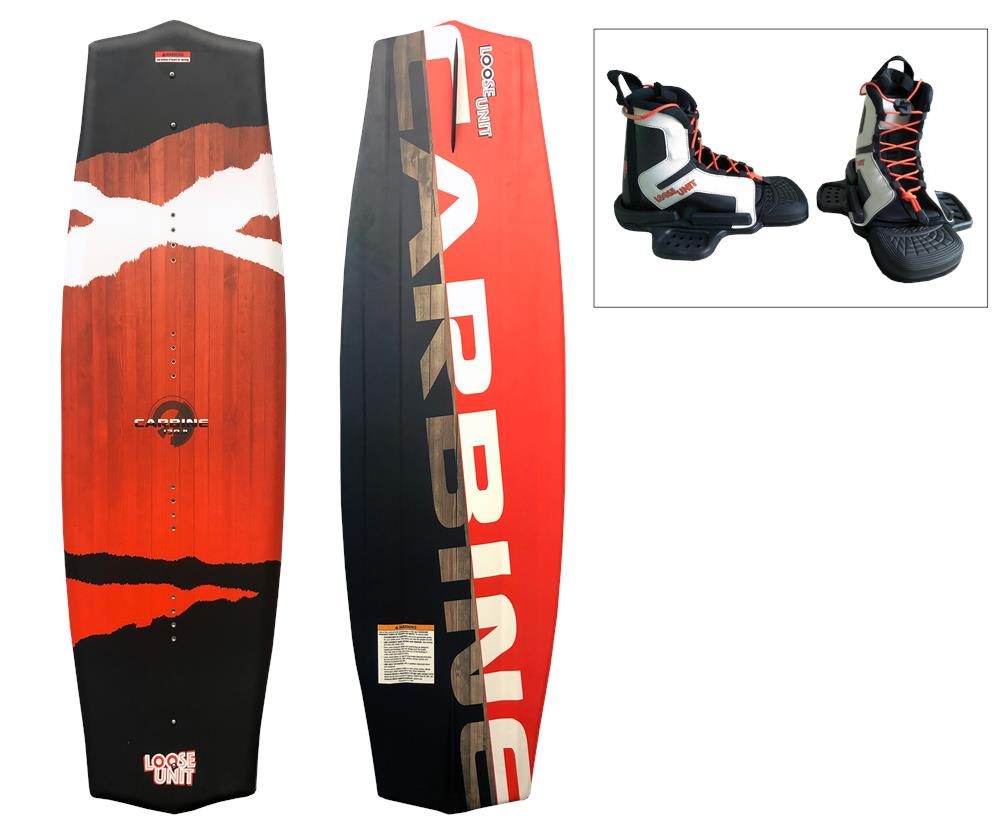 LOOSE UNIT Wakeboard Carbine II Package **NEW***
#WSWB6172B
Only $519.00

ADD TO CART

Limited stock remaining. Order now before it runs out!
Details
***THE BOARD HAS FIVE SLIGHT GROOVES ON THE UNDERSIDE FROM THE MANUFACTURING PROCESS, AND THE BINDINGS HAVE BEEN USED ONCE ON ANOTHER BOARD AND HAVE A SMALL TEAR ON THE WHITE TRIM ON THE SIDE OF ONE BOOT (NOT THROUGH THE ACTUAL SIDEWALL THOUGH)** Hence Reduced price:) Does not detract from the look of the board in any way, and these would not show up on a photo.
***SAVE*******
Perform all the latest insane tricks, and get some awesome Air, on the Loose Unit Carbine .
The high-quality Carbine 139 Wakeboard from Loose Unit has a continuous rocker helping you get out of the water easily and keeps you on top thanks to it's forgiving performance. It's wider shape ensures little power is need for wakeboarding and allows for extra pop when attempting your jumps. 4 continuous channels on the bottom of the board provide stability and the rounded edges let you rotate effortlessly. Twin fins allow beginners to gain confidence when starting off and can be removed when you want to do switch tricks. Finished with our Carbine Bindings that have a multi fit construction this wakeboard is perfect for beginners to advance wakeboarders.
Specifications:
•Length: 139cm
•Freeride shape for less effort and more pop
•Forgiving continuous rocker
•Four deep guide grooves
•2 removable long base centre fins for speed and board control
•Construction with PBT surfaces and PU Lite Core with fiberglass reinforcement
• 55 to 100kg rider
RELATED PRODUCTS